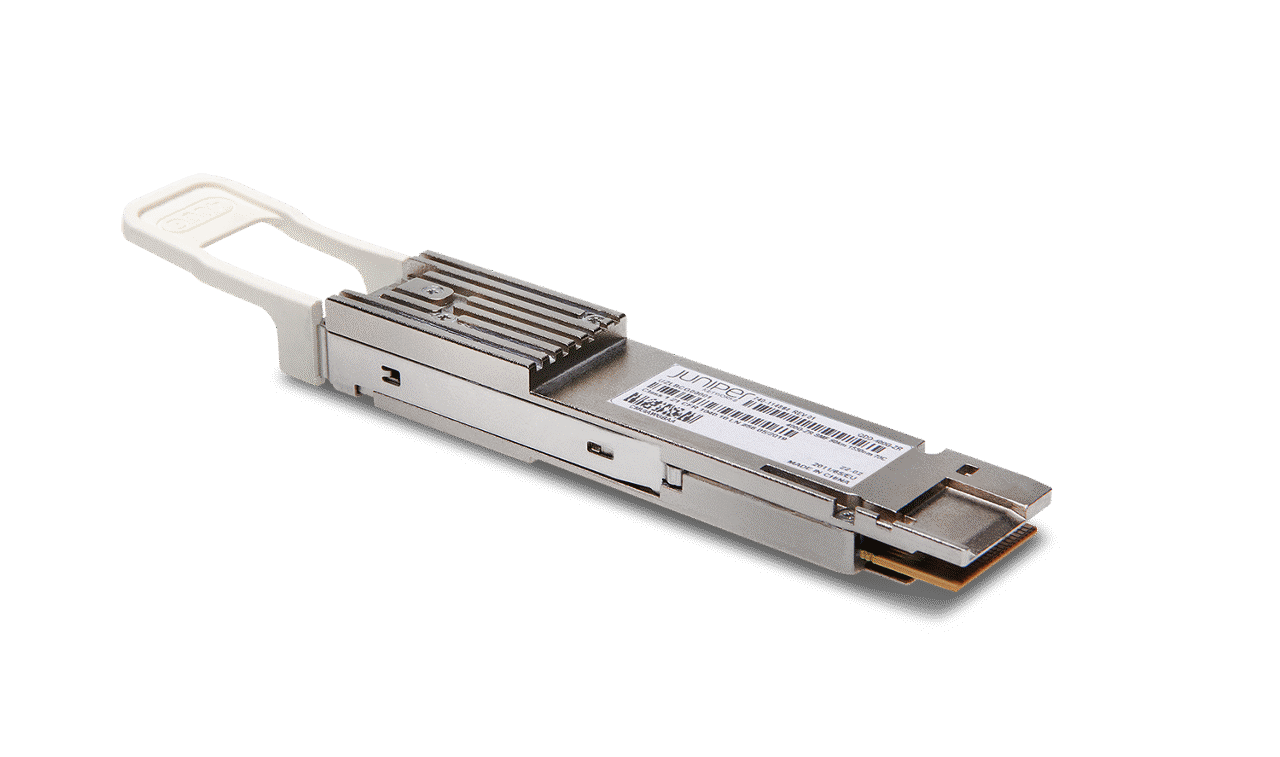 JCO400 Coherent Optical Transceivers
JCO400 Coherent Optical Transceivers help operators achieve their capital, operational, and user experience goals. This innovative series is essential to the transformation strategies of both service providers and cloud operators looking to 400G and beyond.
JCO400 series optics deliver sustainability and automation to metro, peering, core, and cloud networks. They minimize TCO through industry-leading power efficiency, operational simplicity, an open architecture, and an integrated DWDM design.
Juniper JCO400-ZR and JCO400-ZR+ optics are supported by 400G-ready platforms in Juniper ACX Series, MX Series, and PTX Series routers and Juniper QFX Series Switches. Ideal for access, edge, core, data center, and cloud use cases, the transceivers support an open and interoperable networking ecosystem. 
Features + Benefits
Industry-Leading Power Efficiency
Best-in-class power efficiency in an optimized form factor suits a range of metro, edge, and core network use cases, including data center interconnect (DCI), mobile backhaul, next-gen packet cores, and more. 
JCO400 series optics are fully integrated into Junos OS and Junos OS Evolved for simple and flexible configuration, performance monitoring, and end-to-end testing of the optical elements of the network.
Streamlined Multivendor Management
Juniper supports standardized OpenConfig models for vendor-agnostic management of 400G coherent optics, easing integration, deployment, and network maintenance.
JCO400 series optics support flexible configurations and channelized modes that comply with Optical Internetworking Forum (OIF) 400ZR and OpenZR+ Multi-Source Agreement (MSA) Group specifications. 
As an active contributing member of the OIF, OpenZR+, and other key optical-standards bodies, Juniper is working at the forefront of building open and interoperable networking ecosystems. Our standards-compliant, multivendor environment diversifies and stabilizes the component supply chain to ensure product availability and improve lead times.
Find JCO400 in these solutions
Cloud Metro
Apply cloud principles to metro networks to achieve sustainable business growth with future-proof performance, adaptive power innovation, embedded active assurance, and zero trust security.
Paragon Automation
Paragon Automation delivers closed-loop automation to translate business intent into tangible outcomes. The solution helps ensure that your customers receive assured service experiences throughout the network lifecycle, from Day 0 to Day 2.